A few weeks ago our friends Rudi and Ulrike came to Ohakune and stayed at Ruapehu Country Lodge. I felt especially excited as Rudi and Ulrike are both extremely talented in the kitchen and I knew this was a great opportunity to learn a thing or two …..
I was lucky enough on this occasion to learn how to make Burli Bread. Rudi tells me this is a Swiss style bread rather than that of his homeland – Germany.
Here is how we (the royal we!!) made it.

Burli Bread (Rolls) Recipe

1kg 00 bread flour 00*
20g salt
about 600ml water
4tbsp Surebake

We measured all ingredients into a large mixing bowl. I used the trusty Kenwood with the K beater. The Kenwood has a nice powerful motor and can keep mixing quite a large quantity for ages. Rudi tells me he usually mixes this dough with a hand beater – and he has been thru quite a number in his time of bread making!!

Now, I am one for following instructions and bread making, so I have learned , is very much about feel.
Rudi beat this dough for around ten minutes – occasionally adding water. When the mixture makes a slapping type of noise against the sides of the bowl, the consistency is correct. It's quite a sloppy mix and if you were to put it on a tray at this stage, it would not hold up. It's almost batter like in consistency.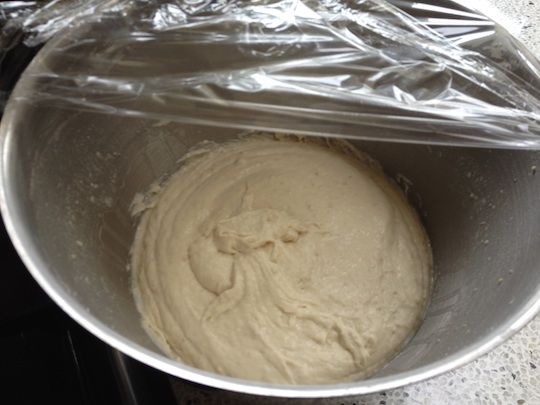 We left this mixture covered in a nice warm spot in my sunny kitchen for the afternoon and before we retired for the night, we popped it into the fridge. It was bubbly and light, and fermenting away nicely.
We took the mixture out of the fridge in the morning and gave it a stir. It immediately halved in size, but was still quite batter like rather than bread like.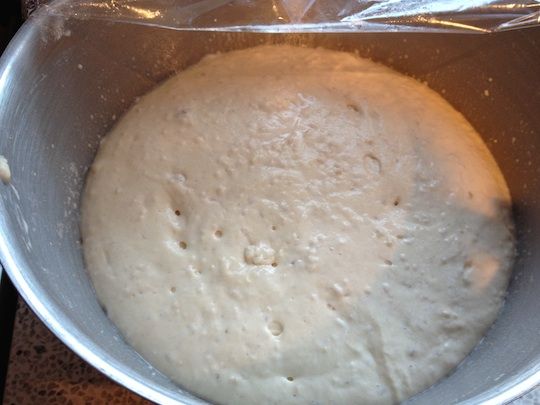 Next step was to sprinkle the bench liberally with flour and then start scooping handfuls of batter out of the bowl. These handfuls were then coated in flour before being placed on the baking tray. There is no way the batter can be shaped but when placed on a tray was able to sit but be a bit sloppy. Each handful is placed next to the other with no gaps. This mixture made a tray full of approx. 12 bread rolls.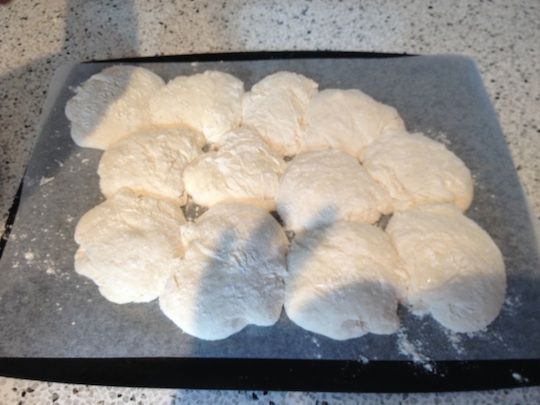 We popped these into the oven for about 40 minutes at 200 degrees. Underneath the tray of bread rolls, you need to place a bowl of hot water so that the steam helps form a nice crust on the buns.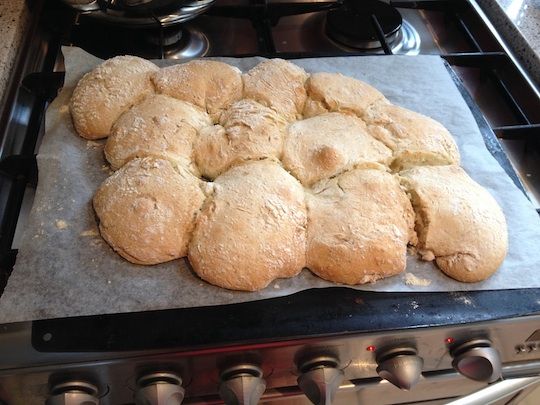 A truly yummy result. Guests and family enjoyed these rolls and I have a feeling they will be a regular on the breakfast table at Ruapehu Country Lodge.
There is nothing quite like the smell of freshly baked bread wafting through the house!!
What our other guests had to say
Heather and Peter are great hosts. They made us a very early breakfast at 6.45 in order for us to be on time for the Tongariro alpine crossing. That evening they served a very good bbq, so that we could stay at their place after hiking the 19,5 km.
Ingrid G, France
Our time with Heather and Peter was wonderful. They were full of suggestions as what to do while staying in the area. The Hosts just made us feel like family and very comfortable in their home. Breakfast was perfect and enjoyable while sharing a table with fellow travelers. Definitely take a...
Dawneen, Wisconsin
A huge thank you to Heather and Peter for a most enjoyable stay. The lodge is situated in beautiful grounds only a short drive from Ohakune. Our room was very comfortable with everything we needed. We also had a terrace with a sun lounger and chairs. Peter dropped us into town for dinner and...
DebsMel, United Kingdom
Read More Reviews